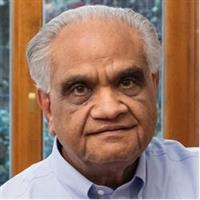 درباره مدرس Ram Charan
Ram Charan is a world-renowned business advisor, author, and speaker who works with top companies and CEOs.

In his work with companies including MeadWestvaco, Bank of America, DuPont, Novartis, EMC, 3M, Verizon, Aditya Birla Group, Tata Group, GMR, Fast Retailing, Max Group, CreditEase, Yildiz Holdings, and Grupo RBS, he is known for cutting through the complexity of running a business in today's fast-changing environment to uncover the core business problem. His real-world solutions, shared with millions through his books and articles in top business publications, have been praised for being practical, relevant and highly actionable-the kind of advice you can use Monday morning.

Ram's introduction to business came early while working in the family shoe shop in a small town in northern India, where he was raised. He earned an engineering degree in India and soon after took a job in Australia. When his talent for business was discovered, Ram was encouraged to develop it. He earned MBA and doctorate degrees from Harvard Business School, where he graduated with high distinction and was a Baker Scholar, then served on the faculties of Harvard Business School and Northwestern University before pursuing consulting full-time.

Ram has coached more than a dozen leaders who went on to become CEOs. He reaches many more up-and-coming business leaders through in-house executive education programs. His energetic, interactive teaching style has won him several awards, including the Bell Ringer award at GE's famous Crotonville Institute and best teacher award at Northwestern. He was among BusinessWeek's top 10 resources for in-house executive development programs. Former Chairman of GE Jack Welch said Ram "has the rare ability to distill meaningful from meaningless and transfer it in a quiet, effective way without destroying confidences," while Ivan Seidenberg, the former CEO of Verizon, called Ram his "secret weapon."

Ram has authored over 25 books since 1998 that have sold over 2 million copies in more than 12 languages. Three of his books were Wall Street Journal bestsellers, including Execution, coauthored with former Honeywell CEO Larry Bossidy. He also has written for Harvard Business Review, Fortune, BusinessWeek, Time, Chief Executive, and USA TODAY.

Ram was elected a Distinguished Fellow of the National Academy of Human Resources and has served on the Blue Ribbon Commission on Corporate Governance. He has served on the boards of Hindalco in India, Emaar, Austin Industries, Tyco Electronics, and Fischer and Porter.

His book The High-Potential Leader: How to Grow Fast, Take on New Responsibilities, and Make an Impact is a hands-on guide for leaders to take charge of their own development and for HR and leadership developers to accelerate and retain the hipos their company needs. His newest book is Talent Wins, coauthored with Dominic Barton and Dennis Carey.